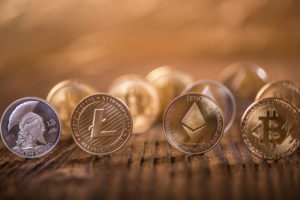 Cryptocurrency[1] regulation has evolved into a complex patchwork.  There is currently no central federal regulator; instead, several agencies have taken an active role in developing the regulatory framework—though not all regulators have taken consistent approaches in their classification of cryptocurrency and related investment vehicles. This regulatory landscape can present challenges for companies seeking to employ virtual currency instruments.  Perhaps nowhere is this more evident than the ICO market.
In a hearing before the Senate Committee on Banking, Housing and Urban Affairs on February 6th, both Jay Clayton, chairman of the SEC, and J. Christopher Giancarlo, chairman of the CFTC, testified about efforts to regulate Initial Coin Offerings ("ICOs"). Both affirmed that their agency would regulate it.[i] This article looks closer at the statements of both the SEC and the CFTC and educates the reader on recent developments.
What is an ICO?
An ICO involves the issuance of a cryptocurrency or token—generally in exchange for fiat currency or a virtual currency.  In many contexts, an ICO is an alternative mechanism to raise capital.  In some contexts, though, the coin or token issued as part of an ICO is not issued as part of an effort to raise capital nor to provide an investment vehicle.  The ICO acronym, however, is something of a play on the more traditional IPO acronym (Initial Public Offering). The moniker may be unfortunate in some contexts and a poor description of the coin issuance.  Some issuers have therefore made a deliberate effort to distance themselves from the ICO descriptor.
The SEC Believes that Many, if not Most, ICOs are Securities
Jay Clayton, the Chairman of the SEC, has expressed concern with the manner in which professionals are employing ICOs,[ii] emphasizing his view that many ICOS bear the "key features" of securities.[iii] In recently addressing the Securitiess Regulation Institute, Clayton warned that "The SEC is looking closely at the disclosures of public companies that shift their business models to capitalize on the perceived promise of distributed ledger technology and whether the disclosures comply with the securities laws, particularly in the case of an [ICO]." Clayton emphasized that "I believe every ICO I've seen is a security"[iv] concluding that ICOs should be regulated as securities, "end of story."[v]
On February 28th the Wall Street Journal reported that it had received a leak explaining that the SEC had issued dozens of information requests and subpoenas to IT companies and their agents who were involved in ICOs.[vi] The WSJ reported that:
[T]the sweeping probe significantly ratchets up the regulatory pressure on the multibillion-dollar U.S. market for raising funds in Virtual Currencies. It follows a series of warning shots from the top U.S. securities regulator suggesting that many token sales, or initial coin offerings, may be violating securities laws.[vii]
The subpoenas include demands for the structure for sales and presales of ICOs, along with other information. The fallout remains to be seen.
The federal securities' laws present a broad definition of "securities." That definition includes a catch-all category: "investment contracts." The SEC generally employs a number of tests to determine whether an ICO is a "security."  Perhaps chief among them in this context is the Howey Test ("Howey").[viii]  Under Howey, an "investment contract" exists when (a) there is an investment of money, (b) there is an expectation of profits from the investment, (c) the investment of money is in a common enterprise, and (d) any profit is expected to come from the efforts of a promoter or third party. The SEC has argued that many – if not most – ICOs are securities under the Howey test.
The CFTC Believes that ICOs are Commodities
On March 6th, 2018, the Eastern District of New York issued an opinion granting standing to the CFTC and allowing it to regulate virtual currencies as a commodity and to exercise its jurisdiction over fraud that does not involve the sale of futures or derivative contracts.[ix]
Historically the CFTC has been charged by the Commodities Exchange Act with regulating the commodity futures markets which, over time, have grown to include the designated contracts markets (DCMs) and commodities like gold, copper, and silver. In 2015, the CFTC classified virtual currencies as a commodity subject to the Commodity Exchange Act ("CEA"). [x]
In the recent federal court holding referred above, the court provided that, "Until Congress clarifies the matter, the CFTC has concurrent authority, along with other state and federal administrative agencies, and civil and criminal courts, over dealings in virtual currency."[xi] U.S. District Senior Judge Jack B. Weinstein, who issued the opinion, included Christopher Giancarlo's written testimony before the U.S. Senate Banking Committee as an appendix to the order:
Emerging financial technologies broadly are taking us into a new chapter of economic history. They are impacting trading, markets and the entire financial landscape with far-ranging implications for capital formation and risk transfer." "We are entering a new digital era in world financial markets. As we saw with the development of the internet, we cannot put the technology genie back in the bottle. Virtual Currencies mark a paradigm shift in how we think about payments, traditional financial processes, and engaging in economic activity. Ignoring these developments will not make them go away, nor is it a responsible regulatory response.[xii]
We expect to see the CFTC make its mark in this arena alongside the SEC.
Concluding Remarks
ICO regulation is an important and evolving topic.  ICOs represent a new and exciting mechanism for raising and accumulating capital – a fundamental aspect of a capitalistic economy.  At the same time, however, regulators have serious concerns about the ICO market.  As regulators jockey for their oversight roles, expect ICO regulation to continue its fast-paced evolution.
Cryptocurrency and Blockchain Attorneys
Have cryptocurrency or blockchain issues or questions? Freeman Law is an innovative thought leader in the blockchain and cryptocurrency space. Blockchain and virtual currency activities take place in a rapidly evolving regulatory landscape. Freeman Law is dedicated to staying at the forefront as these emerging technologies continue to revolutionize social and economic activities. Contact Freeman Law to schedule a consultation or call (214) 984-3000 to discuss your cryptocurrency and blockchain technology concerns.
[1] Virtual currencies, or cryptocurrencies, are generally defined as "a digital representation of value that may function as a medium of exchange, a unit of account, and/or a store of value. Virtual Currencies generally run on a decentralized peer-to-peer network of computers, which rely on certain network participants to validate and log transactions on a permanent, public distributed ledger, commonly known as the block chain."
[i] Virtual Currencies, supra see generally; Chairman Jay Clayton, Opening Remarks at the Securities Regulation Institute, SEC, (Last visited March 12, 2018), [hereinafter Clayton Opening Remarks].
[ii]Clayton Opening Remarks, supra see generally.
[iii] Id.
[iv] Stan Higgins, SEC Chief Clayton: 'Every ICO I've Seen is a Security', CoinDesk (February 6, 2018) (last visited March 12, 2018).
[v] Id.
[vi] Aaron Wood, WSJ: SEC Launches Cryptocurrency Probe, Cointelegraph (march 1, 2018) (last visited March 12, 2018); Jean Eaglesham and Paul Vigna, Cryptocurrency Firms Targeted in SEC Probe, Wall Street Journal (February 28, 2018) (last visited March 12, 2018).
[vii] Eaglesham and Vigna, supra see generally.
[viii] Ash Bennington, Why the DAO was a Security, CoinDesk (July 31, 2017) (last visited March 12, 2018).
[ix] Katheryn Tucker, Federal Judge Opens the Door to CFTC to Regulate Virtual Currency, Law.com, New York Law Journal (March 6, 2018) (last visited March 12, 2018).
[x] See generally Staff of U.S. Comm. Futures Trading Commission, 115th Cong., CFTC Background on Oversight and Approach to Virtual Currency Futures Markets, U.S. Commodity Futures Trading Commission (UFTC) (January 4, 2018) (last visited March 12, 2018).
[xi] Tucker, supra see generally.
[xii] Chairman Jay Clayton, Opening Remarks at the Securities Regulation Institute, U.S. Securities and Exchange Commission SEC (January 28, 2018) (Last visited March 12, 2018).